History History
MALAYSIA

COUNTRY PROFILE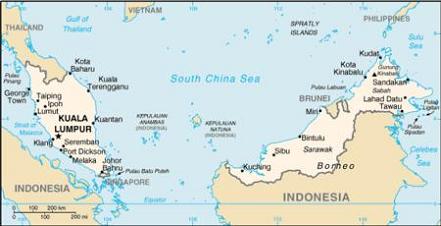 Some Facts on Malaysia.
Climate
Equatorial Climate with temperature ranging from 21 °C to 31 °C in major cities. On the highlands, the temperature is cooler and ranges from 16 °C to 24 °C. One can choose to escape the heat of the cities by going up the highlands, driving journey time ranges from 1 hour to 3 hours depending on which highland you go to.
Latitude and Longitude
Latitude of Kuala Lumpur is about 3 ° North of the Equator. Longitude of Kuala Lumpur is about 101 ° East.
Enjoy the sunshine throughout the year.
Time Zone
Malaysia has one standardised time zone which is Greenwich Mean Time + 8 hours.
Malaysia consists of 13 states and 3 federal territories. Peninsular Malaysia consists of 11 states and 2 federal territories. The 11 states are Perlis, Kedah, Penang, Perak, Selangor, Negeri Sembilan, Malacca, Johore, Kelantan, Terengganu and Pahang. The 2 federal territories are Kuala Lumpur, the capital of Malaysia and Putrajaya, the federal administrative capital. East Malaysia consists of 2 states and 1 federal territories. The 2 states are Sabah and Sarawak. Labuan is the one and only federal territory in East Malaysia.
Population
The 2008 population of Malaysia is approximately 27.5 million
Languages
The official language of Malaysia is the Malay Language. However, English language is widely spoken. Other languages and dialects used are Mandarin, Tamil, Hokkien and Cantonese.
Economy:


Malaysia, a middle-income country, has transformed itself since the 1970s from a producer of raw materials into an emerging multi-sector economy. Since coming to office in 2003, the then Prime Minister Tun Abdullah Badawi has tried to move the economy farther up the value-added production chain by attracting investments in high technology industries, medical technology, and pharmaceuticals. Kuala Lumpur is also trying to boost domestic demand to wean the economy off of its dependence on exports. Nevertheless, exports - particularly of electronics - continue to drive the economy. As an oil and gas exporter, Malaysia has profited from higher world energy prices, although the rising cost of domestic gasoline and diesel fuel forced Kuala Lumpur to reduce government subsidies. Malaysia "unpegged" the ringgit from the US dollar in 2005 and the currency appreciated 6% per year against the dollar in 2006-07. Although this has helped to hold down the price of imports, inflationary pressures began to build in 2007. Healthy foreign exchange reserves and a small external debt greatly reduce the risk that Malaysia will experience a financial crisis over the near term similar to the one in 1997. The government presented its five-year national development agenda in April 2006 through the Ninth Malaysia Plan, a comprehensive blueprint for the allocation of the national budget from 2006-10.
Government: Constitutional Monarchy
:
nominally headed by paramount ruler and a
bicameral Parliament consisting of a non-elected Upper House and an elected Lower
House; all Peninsular Malaysian states have hereditary rulers except Melaka and Pulau
Pinang (Penang); those two states along with Sabah and Sarawak in East Malaysia have
Governors appointed by government; powers of state governments are limited by Federal
Constitution; under terms of federation, Sabah and Sarawak retain certain constitutional
prerogatives (e.g., right to maintain their own immigration controls); Sabah holds 25 seats
in House of Representatives; Sarawak holds 28 seats in House of Representatives.
Head of State :
His Majesty Al Wathiqu Billah Tuanku Mizan Zainal Abidin ibni
Al-Marhum Sultan Mahmud Al Muktafi Billah Shah
The Yang Di-Pertuan Agong
Head of Government:
Hon. Dato' Seri Haji Mohd Najib
bin Tun Haji Abdul Razak
Prime Minister
Minister of Foreign
Affairs
: Hon. Datuk Anifah bin Aman
Date of Independence: 31st August 1957
THE REPUBLIC OF GHANA
COUNTRY PROFILE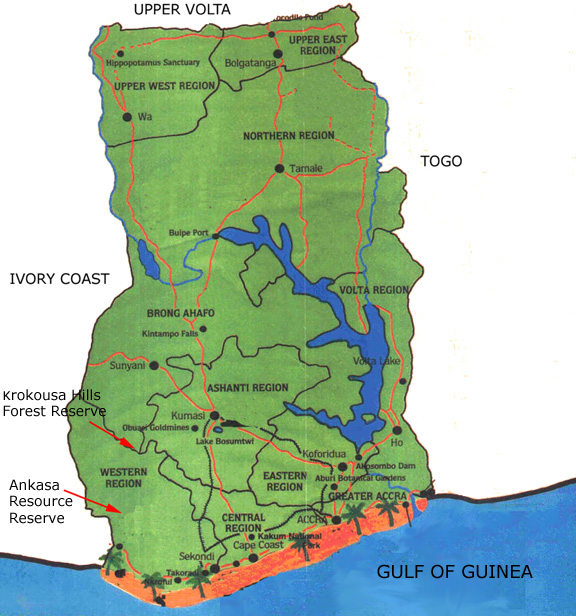 The Flag of Ghana

General Information


Ghana is located in the western part of the African continent, bordered in the north by Burkina Faso,to the west by Cote d'Ivoire and the east by Togo. To the south lies the Atlantic Ocean.


Capital :
Accra

Surface area :
239 thousand sq km

Official language :
English, local languags include Akan, Ga, Ewe and Dagbani.

Population :
22.0 million (2007)
Recent Economic Indicators:


GDP (US$bn) (current prices: 2007 (14.9) 2008 f (16.8)
GDP PPP (US$bn) : 2007 (31.1) 2008 f (34.2)
GDP per capita (US$): 2007 (676) 2008
f
(747)
GDP per capita PPP (US$): 2007 (1,426) 2008
f
(1,516)
Real GDP growth (% change YOY): 2007 (6.4) 2008
f
(6.9)
Current account balance (US$m): 2007 (-1,896) 2008
f
(-1,648)
Currant account balance (% GDP): 2007 (-12.8) 2008
f
(-9.8)
Goods & services exports (% GDP): 2007 (na) 2008 (na)
Inflation (% Change YOY): 2007 (9.6) 2008
f
(8.9)
*f -
forecast

Source:
ABF & IMF statistic


Ghana's principal export destination, 2007


1. South Africa - 25.8%
2. Burkina Faso - 12.6%
3. The Netherlands - 11.1%
4. Australia - 1.3%


Ghana's principal import sources, 2007


1. Nigeria - 9.6%
2. China - 9.5%
3. United Kingdom - 8.9%
4. Australia - 1.3%

Climate


The climate in Ghana is typically tropical. The temperatures are hot and humid especially in the North. There are four distinct seasons with two rainy seasons from March to July and September to October with the former experiencing heavier rains. Other months are largely dry but slight rains can be experienced throughout the year.


Government:

Ghana practices a multi-party democracy. It gained independence on 6th March, 1957 from Britain. It has an executive presidency, and an independent legislative and judicial system. The president and the legislators are elected every four years.
Last election held on 7 December 2008, 28December 2008(second round).
Next election will be in December 2012.
Legal system is based on English Common law and customary law.

Head of State and Head of Government:
H.E President John Evans Atta Mills

Minister of Foreign Affairs and Regional Integration
: Hon. Alhaji Mohammed Mumuni

Date of Independence:
6 March 1957

GHANA -MALAYSIA RELATIONS


Overall, Malaysia enjoys good relations with Ghana based on a long history of engagement, commercial and trade engagement as well as continued interaction at the international fora including the UN, NAM and the Commonwealth. Malaysia established diplomatic relations with Ghana in 1967 and in 1997 both countries set up their missions in Accra in May and Kuala Lumpur in July respectively. Exchange of visits at highest level,importantly the visit by President John A. Kufuor to Malaysia in 2002 presented an opportunity to establish contact and rapport between the leaders of both countries which in turn contributed to the strengthening of relations.
After over 40 years of good relations, both Malaysia and Ghana have developed mutually beneficial relations that are manifested in the fields of economic,trade and investment and education and human resource training. In the early 1990s, both the two countries have signed three bilateral agreements and one MoU namely the Trade Agreement; the Economic,Technical, Scientific and Cultural Agreement; the Agreement on the Promotion and Protection of Investment; and the MoU on Information Cooperation.
It is noteworthy that bilateral trade between Malaysia and Ghana , although small but on an increase. Total imports value from Ghana in 2008 was approximately RM5.7 million while exports remained around RM5.8 million compared to RM 4.3 million andRM 4.11 million in the previous year. The main imports from Ghana among others comprised cocoa;processed food; iron and steel products; and wood products. Ghana's imports from Malaysia comprised palm oil; ,isc.edible products;dairy products;furniture; clothing; power generating machinery; electrical machinery; and beverages and general industrial machines.
In term of investment, several Malaysian companies are still operating in Ghana namely, the International Commercial Bank, Media Prima(TV3), PSC Tema Shipyard (managed by the Boustead Heavy Industries Corporation Berhad).
In line with the spirit of South-South Cooperation, Malaysia has been providing training courses for Ghana citizens under the Malaysian Technical Cooperation Programme (MTCP) in areas where the former has the experience and expertise such as public administration, agriculture, poverty alleviation, investment promotion, ICT, banking, English language and diplomacy and education. Since the inception of the MTCP in 1985, more than one hundred Ghanaians have been trained in Malaysia in various courses.In 2009, 8 Ghanaians have received training under MTCP.
On the International front, Malaysia and Ghana shared many common views on various international issues of mutual concern. Malaysia is grateful to the Government of Ghana for its support in the past to our candidatures at the international fora especially in the NAM and the Commonwealth.